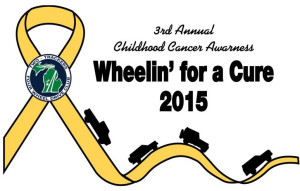 ---
3rd Annual "Wheelin' for a cure" to Benefit Special Days Camps
Saturday September 26 2015
Registration on site from 8:00 to 9:15 a.m.
Starting at the Moose Lodge of Dorr
4204 20th Street, Dorr, MI 49323
The Two Trackers 4WD Club will be hosting a fund raiser event for Special Days Camp. Special Days is a camp for children with cancer. The camp provides the kids and their siblings with a camping experience created for their special needs. The camp is held at the YMCA Camp Pendalouan in Montague, MI.
We are planning a full day of activities, including an I-Spy Game through the Allegan State Forest with clues; Breakfast provided by the Moose for a fee; Lunch provided by the Two Trackers; Games; Door Prizes; 50/50 raffle; stickers;Go Pro camera raffle; and quilt raffle. Everyone is invited. A vehicle capable of traveling state forest roads is suggested.
Check out the list of Door Prizes we gave away at the 3rd annual Wheelin for a cure event. http://www.twotrackers.org/wheelin-for-a-cure/door-prizes/
---
Preregistration here: http://two-trackers-3rd-annual-wheelin-for-a-cure.eventbrite.com
Registrations received by August 22th 2015 drivers receive a free event t-shirt.
More information available at:
http://www.facebook.com/pages/Two_Trackers_Wheelin_for_a_Cure/148425011986048
For more information about Wheelin' for a Cure 2015 or Two Trackers 4WD Club contact:
Shari French at 269-760-1187
or
sharifrench123@hotmail.com
---
For more about Special Days Camps
visit http://www.specialdays.org
Call 866-448-4710
---
Calling all 4×4 Clubs and Facebook Groups
The Wheelin for a Cure Committee is challenging every four wheel drive club and facebook group to have the most members attending the WFC event on Sept 26th.
The winning club or facebook group will receive 2 door prize tickets for each member present. The second place club or facebook group will receive 1 door prize ticket per member present. These tickets will be handed out to the winner's right before the door prize drawing begins. The winning club or facebook group will have bragging rights and a certificate will be given to the winner of the challenge.
Please let us know if your club would like to participate in the challenge and make sure everyone in your club or facebook group signs the Club Challenge registration form at the event. Sharifrench123@hotmail.com
---
Why do we support Special Days Camp!
I would like to share with you what the Wheelin for a Cure Annual Event is all about. It is our chance to support "normal children" dealing with extraordinary circumstances. It is a chance to send kids with cancer and leukemia to camp so they can just be "kids for a change" and it is a chance to send their siblings to camp to help deal with their emotions and a chance for them to be "first for a change".
Camp provides a safe place to enjoy normal childhood camp activities in a healthy outdoor setting. Skilled nursing personnel are on hand 24/7 and all their medical needs can be taken care of on site, even chemotherapy. Campers gain Hope, life-long friendships and skills to deal with school, work, and everyday challenges. Many kids come back year after year and when it is time, they come back as volunteers.
Special Days Camp is for kids 6 thru 17. One week for the siblings and one week for the child living with cancer. There are over 100 kids at each camp, last year there were 125 at the sibling's week when we visited. There is also a Winter camp where both groups get together for a Fun Filled weekend. These experiences are life changing and so worth our time. It costs about $1000.00 a child to go to camp. Each family is asked to pay $75.00 for their child. 90% of these families are unable to pay, usually because of medical expenses one prescription for their child could cost $75.00. No child is ever turned away because they can't pay. This is where we come in. With your support we would like to send at least 10 kids to camp in 2016. Because of your generosity, the 2nd Annual Wheelin for a Cure Event is helping to send 6 kids to camp this August.
---
Thank You Everyone for coming to The 2014 Wheelin' For A Cure Event!
The Two Trackers appreciate your support for the Special Days Camps. There were 78 rigs present and over 172 people.
You raised $6,000.00 after expenses. We are very happy with the results of this great event.
Thank you! Thank you! Thank you!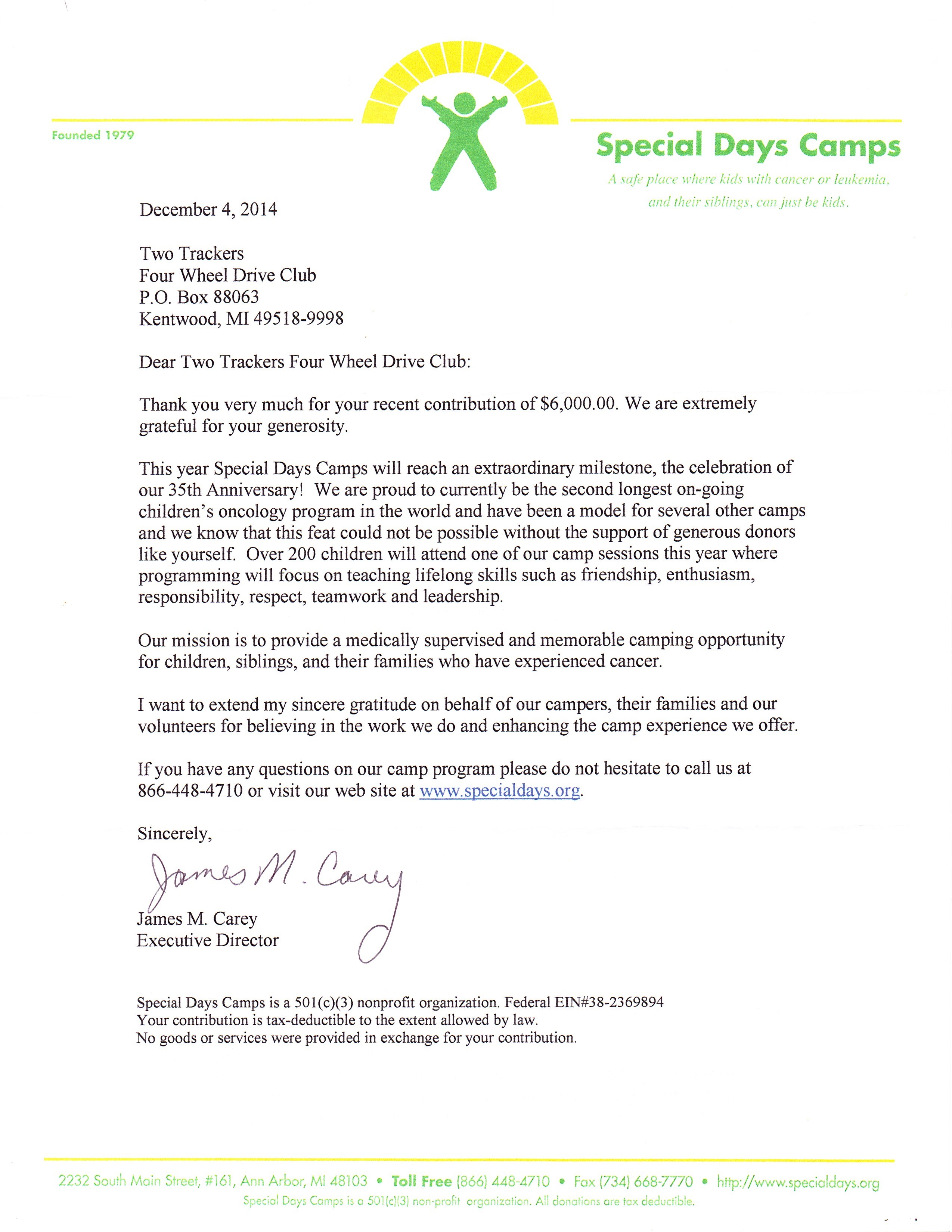 ---
---