---
3rd Annual "Wheelin' for a cure" to Benefit Special Days Camps
Saturday September 26 2015
Registration on site from 8:00 to 9:00 a.m.
Starting at the Moose Lodge of Dorr
4204 20th Street, Dorr, MI 49323
The Two Trackers 4WD Club will be hosting a fund raiser event for Special Days Camp. Special Days is a camp for children with cancer. The camp provides the kids and their siblings with a camping experience created for their special needs. The camp is held at the YMCA Camp Pendalouan in Montague, MI.
We are planning a full day of activities, including a Virtual Scavenger Hunt route through the Allegan State Forest with clues; Breakfast; Lunch; Games; Door Prizes; 50/50 raffle; stickers; snacks and water for a donation; and quilt raffle. Everyone is invited. A vehicle capable of traveling state forest roads is suggested.
Check out the list of Door Prizes we gave away at the 2nd annual Wheelin for a cure event. http://www.twotrackers.org/wheelin-for-a-cure/door-prizes/
---
More information available at:
http://www.facebook.com/pages/Two_Trackers_Wheelin_for_a_Cure/148425011986048
For more information about Wheelin' for a Cure 2015 or Two Trackers 4WD Club contact:
Shari French at 269-760-1187
or
sharifrench123@hotmail.com
---
For more about Special Days Camps
visit http://www.specialdays.org
Call 866-448-4710
---
Thank You Everyone for coming to The 2014 Wheelin' For A Cure Event!
The Two Trackers appreciate your support for the Special Days Camps. There were 78 rigs present and over 172 people.
You raised $6,000.00 after expenses. We are very happy with the results of this great event.
Thank you! Thank you! Thank you!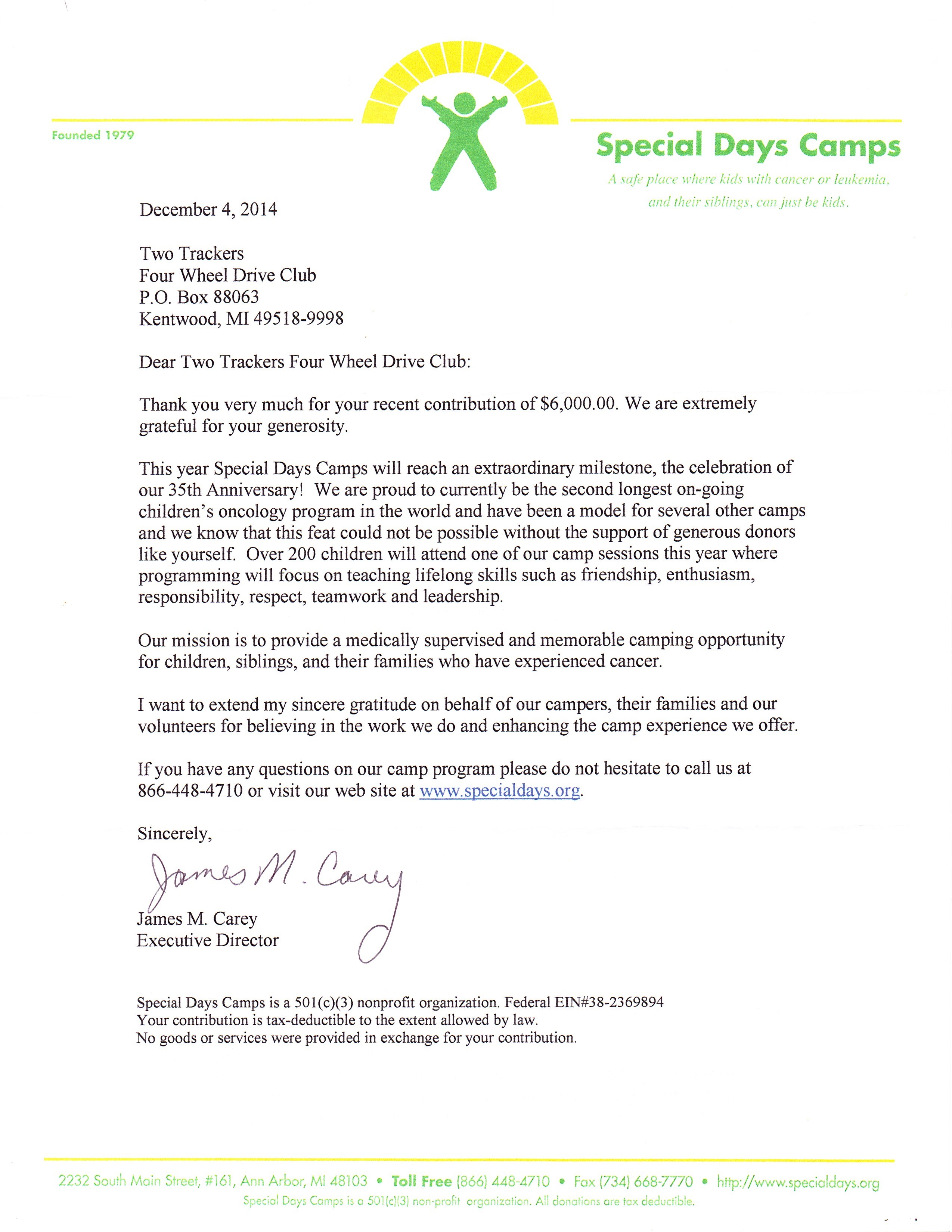 If you have suggestions for next year please send me a e-mail to twotrackerscancerrun2013@hotmail.com
---
---