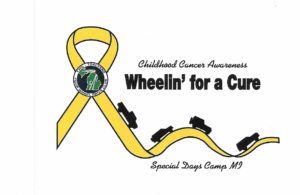 5rd Annual "Wheelin' For A Cure" Event — Saturday, September 30th 2017
The Two Trackers 4WD Club will be hosting a fund raiser event for Special Days Camp.  Special Days is a camp for children with cancer.  The camp provides the kids and their siblings with a camping experience created for their special needs.  The camp is held at the YMCA Camp Pendalouan in Montague, MI.
We are planning a full day of activities including a virtual scavenger hunt route searching for clues through the Allegan State Forest, breakfast, lunch, games, door prizes, 50/50 raffle, stickers and so much more.  Everyone is welcome, but a vehicle capable of traveling state forest roads is suggested. There will multiple routes available for vehicles of all levels. You can "CHOOSE YOUR CRUISE" from either "BRICKS OR STICKS". Cruise around historical sites via paved roads or cruise the woods by trail. No matter what you prefer the "5th Annual Wheelin' for a Cure" has it all. Free BBQ Lunch – Games to Play along the way and back at the lodge Fantastic Door Prizes – 10lb Air Tank System Raffle-Crochet Jeep Blanket Raffle
Details of registration will be listed at a later date. Check back regularly.
Location: Beech Point Christian Camp, 3212 125th Avenue, Allegan, MI 49010
For more information, please check out our Wheelin' For A Cure Facebook page HERE or utilize one of the contacts listed below:
Shari French (269)760-1187
, or email at sharifrench123@hotmail.com.