Events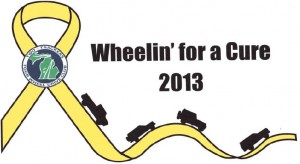 1st Annual "Wheelin' For A Cure" Event – Saturday, September 14, 2013
The Two Trackers 4WD Club will be hosting a fund raiser event for Special Days Camp.  Special Days is a camp for children with cancer.  The camp provides the kids and their siblings with a camping experience created for their special needs.  The camp is held at the YMCA Camp Pendalouan in Montague, MI.

We are planning a full day of activities including a virtual scavenger hunt route searching for clues through the Allegan State Forest, breakfast, lunch, games, door prizes, 50/50 raffle, stickers and so much more.  Everyone is welcome, but a vehicle capable of traveling state forest roads is suggested.
Registration takes place from 8-9 a.m. on the day of the event and is $20 for the driver, $10 for an adult passenger, $5 for children ages 6-17 and free for children 5 and under.
Location: Moose Lodge Of Dorr, 4202 20th Street, Dorr, MI 49323
For more information, please check out our Wheelin' For A Cure Facebook page HERE or utilize one of the contacts listed below:
Shari French (269)760-1187, Bill Sherwood (616)498-0616 or email at twotrackerscancerrun@hotmail.com.
Annual Two Trackers Trail Clean-Up
The Two Trackers Four Wheel Drive Club is a family oriented, trail riding organization for street-licensed four wheel drive vehicles.  The club holds a number of trail rides, forest/trail clean-ups and charitable events each year.  The club was formed for the purpose of providing social, educational and recreational activities for its members; participation in, and support of civic activities for the betterment of the community; and the promotion of conservation for the betterment of the environment.
Several years ago, the the Two Trackers bacame involved in the Adopt-A-Forest program.  The Adopt-A-Forest program is a collaborative effort between the Michigan Department of Natural Resources, the U.S.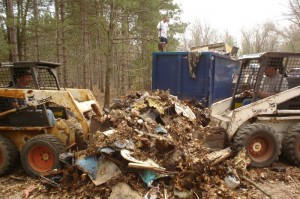 Forest Service and volunteer groups and individuals.  Each Spring the Two Trackers coordinate an annual trash clean-up in the Southern portion of the Manistee National Forest.  Their designated "adopted" lands
reside in Blue Lake, Cedar Creek and Holton Townships of Muskegon County and Grant Township, Greenwood Township and Otto Township of Oceana County for a total of 36,163 acres of public land.
The Two Trackers annual clean-up efforts have eliminated many of the historic illegal dumping sites in these areas including the removal of 900 yards of trash, 3,425 tires, 130,000 pounds of shingles, 3 junk vehicles and 250 gallons of used oil.
More detailed information will be posted as we get closer to the event.