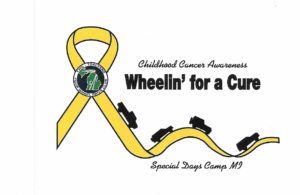 5rd Annual "Wheelin' For A Cure" Event — Saturday, September 30th 2017
The Two Trackers 4WD Club will be hosting a fund raiser event for Special Days Camp.  Special Days is a camp for children with cancer.  The camp provides the kids and their siblings with a camping experience created for their special needs.  The camp is held at the YMCA Camp Pendalouan in Montague, MI.
We are planning a full day of activities including a virtual scavenger hunt route searching for clues through the Allegan State Forest, breakfast, lunch, games, door prizes, 50/50 raffle, stickers and so much more.  Everyone is welcome, but a vehicle capable of traveling state forest roads is suggested.
Details of registration will be listed at a later date. Check back regularly.
Location: Moose Lodge Of Dorr, 4202 20th Street, Dorr, MI 49323
For more information, please check out our Wheelin' For A Cure Facebook page HERE or utilize one of the contacts listed below:
Shari French (269)760-1187
, or email at sharifrench123@hotmail.com.